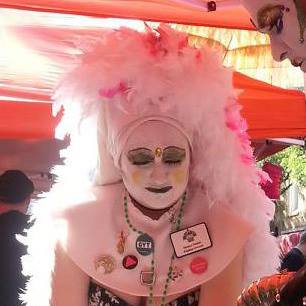 Mistress of the Quill
I have the (mis)fortune of needing to correct the sex which was assigned to me at birth. In the course of this work, I have lost friends, family, and social standing. The Gods have blessed me well with the Sisters in my life, to offer me love, support, and tribe. Having known both the emotional extremes of emptiness and fullness, I wish everyone could know fullness. To that end I do my best to extend blessings of love, joy, and complete safety beyond my tribe's borders.
As a queer, I must stand against the demons of homophobia, biphobia, and transphobia, but likewise it is my duty and my privilege to stand against patriarchy, racism, classism, et alia. When we queers grow complacent in our victories and do not extend our fight to others, we shirk our sacred calling to turn our faces toward oppression and pain, to stand up for others in love, and to weave a just, kind, nurturing future.
We are not free and joyous until we are all free and joyous, together.